.
Chapter 3, Page 124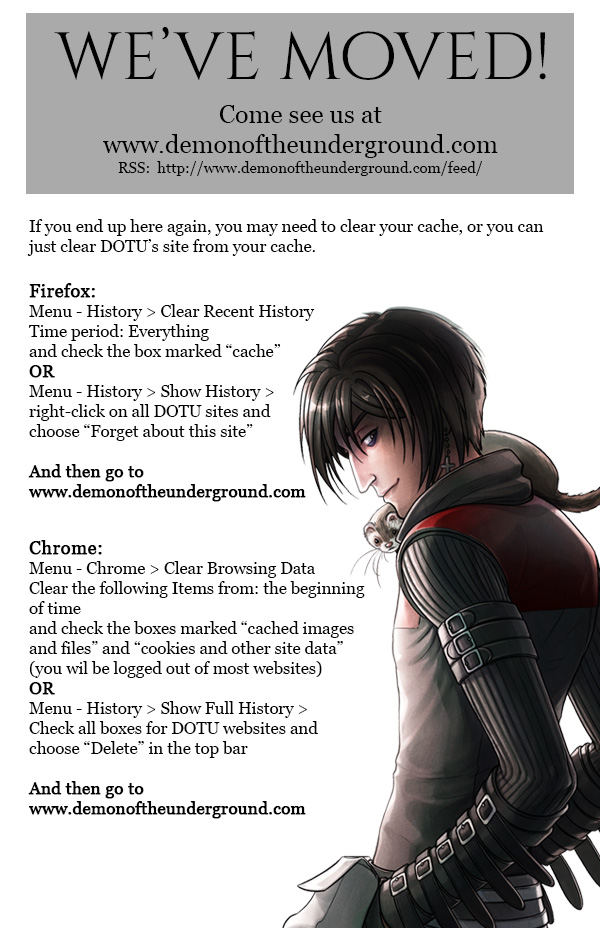 Author's Comment
And that's the end of chapter 3!!!!! Dudes, y'all don't understand, I've been working on this chapter since FEBRUARY 2015!

It was a really long chapter. ;_; But so much awesome stuff happened during work on this chapter, the biggest thing from my perspective being that DOTU's Patreon grew enough to really be able to support the work I put into the comic, meaning that unless my financial situation changes drastically, I'm no longer in imminent danger of having to drop DOTU for better paying work. (This is especially thanks to the influx of new patrons after launching Merritt's story, and all the patrons who continued to pledge before and after.

) And that's a huge deal because this is my pet project that's carried me through the worst times, and I'll always be grateful to you guys for giving me the means to continue working on it.
MY END OF CHAPTER HIATUS BEGINS NOW! I will be back on Monday, August 7 (first Monday of August) with the cover of chapter 4! Again, this is a working hiatus. I will be doing the following things during the break:
-June's monthly Patreon rewards will go out this week, and rewards will continue through July as always.
-Merritt's Story will continue to be posted on Patreon. We'll have at least 3 new chapters, starting with chapter 12 this Thursday.
-The new website will go up! I'm aiming for mid-July so I have time for troubleshooting, but I'm also playing it by ear.
-I'll be finalizing the script for chapter 4, developing some new environments, and getting a head start on pages. I'll post previews to Patreon when I can.
-I'll be hosting two public Q&As! Next Monday, 7/3, I'll host a CREATOR Q&A on my personal tumblr - bob-artist.tumblr.com. My last tumblr Q&A was about general DOTU questions, so this time I'm doing one about creator-related questions - anything about me, personal or professional questions, etc. You don't need a tumblr account to participate. Just head over to the blog and look for the "Creator Q&A" link up at the top of the page. I'll start answering questions on 7/3, but you can begin sending them now.
-The second public Q&A will be on DOTU's Facebook page. It will be a general DOTU Q&A, and I'll make a post to open the FB Q&A on Monday 7/17. It'll probably be open for that day only, and I'll answer questions in real time.
-I'll also keep you guys updated on any news on social media and Patreon.
And finally, we have a new Top Webcomics voting incentive! This is a sequel to the last one because the awesome Linmayu sent me a picture I just HAD to use. (Thanks, dude!) It reuses the same art as the last incentive, so it might look the same at first glance. You can vote and see the image by clicking the TWC button below or in the sidebar.
Chapter 3
Website design and contents copyright 2010-2017 Shobana "Bob" Appavu. Do not use without permission.