.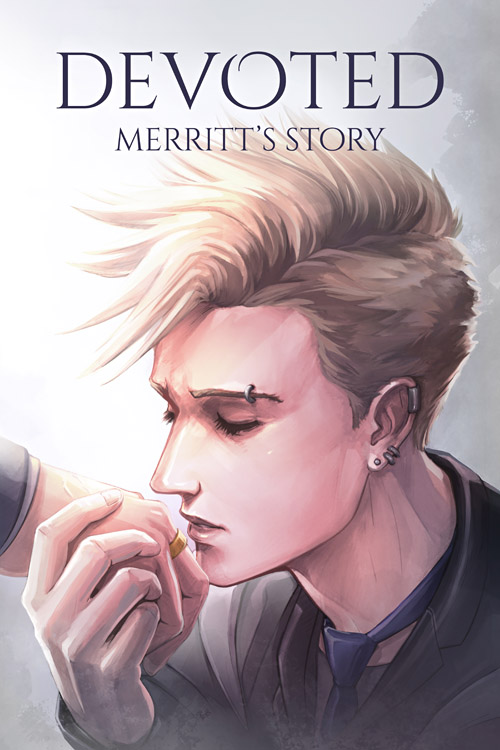 Launch Date: March 6, 2017
Genre: Urban Fantasy
Content Warnings: sex, violence, drug use, torture, themes involving sexual slavery


READ ON PATREON

Part 1
Chapter 1 - [Read for Free]
Chapter 2 - [Read][Free Excerpt]
Chapter 3 - [Read]
Chapter 4 - [Read]
Chapter 5 - [Read] (nsfw)
Chapter 6 - [Read]
Chapter 7 - [Read]
Chapter 8 - [Read]
Chapter 9 - [Read]
Chapter 10 - [Read]
Chapter 11 - [Read]
Chapter 12 - June 29, 2017

Chapter 13
Chapter 14
Chapter 15
Chapter 16 [nsfw]
Chapter 17
Chapter 18
Chapter 19
Chapter 20
Chapter 21


Part 2 - UNLOCKED ($1050)
Part 3 - Unlocked at $1150

Full eBook Public Release - Unlocked at $1250

Special thanks to my awesome beta readers:
Auldr
Elliott
Misha
Zippy
Devoted: Merritt's Story

In the underground's North Sphere, low-ranking orphans are sold to the military, their lives signed away in thankless servitude to their sphere. Merritt, an idealistic new private, is blacklisted from rising the ranks and destined to die in obscurity. But when a brash act of treason catches the attention of King Damen Mercury, Merritt's prodigious tactical skills come to light.

Merritt is given a second chance, opening doors into the realm of the North's elite. While striving to do good for the needy in his sphere, Merritt also longs for the approval of the cutthroat King he's idolized for years. Mercury's inner circle is within reach - but Belmont, Mercury's right hand, recognizes Merritt as a threat to his position and resolves to take him down.

In order to stay one step ahead of the cunning and manipulative Belmont, Merritt must bend the rules, compromise his values, and forge risky alliances with enemies who could betray him at any turn. But as Merritt gets closer to his King's inner circle, he's forced to confront the true nature of servitude to his sphere. This is the underground: integrity is no virtue, and an honorable man will either break or face his downfall.

-----

What is Merritt's story?
It is a full length prose novel released in serialized form on Patreon.

When does the story take place?
It starts five years before Demon of the Underground. It ends after Merritt is captured by the East and becomes an East Sphere citizen, a few months before the start of Demon of the Underground.

What is your update schedule?
2-3 chapters per month, usually on Thursdays.

What characters show up in the story?
The story's main characters are Merritt, Mercury, and Belmont. But a lot of DOTU's main characters also have major and minor roles in Merritt's story, and we also meet a whole lot of new characters.

What Patreon tier do I need to join in order to read the story?
The story will be released to $2 patrons. Any bonus content relating to the story, such as author commentary or illustrations, will be posted to the $10.01 Secret Gallery Tier.

About how long is the story?
Later portions of the story are still going through edits. It is currently at about 230K words, and I estimate the finished length to be between 300K and 350K. (for reference, the longest Harry Potter book was 200K.) This is a 3-part story, so you can look at it as three books in one.

What file format do you use, and can I read the story with an E-reader?
I am releasing individual chapters as PDF files, which you can read with Adobe Acrobat, some web browsers including Chrome, or any e-reader that is compatible with PDFs. I recommend Calibre, which is free. The files are DRM-free, but I ask that you don't distribute them, as I depend on rising income from Patreon in order to continue working on DOTU.

Will the story be released as a full ebook or print book so I can read it all at once?
I will release a full, polished ebook in all the most popular formats, with an ISBN and everything, if we reach the $1250 Patreon goal. I don't know if I'll release a print version. It's a very long book that'll be expensive to print, so it'll depend on demand. As for the ebook, I can't make any promises because it'll depend on the costs of production, but I'll try my best to make the ebook free or deeply discounted to patrons with a high lifetime pledge amount.

How do I pledge on Patreon?
Visit my Patreon page here, and click on the "Pledge" button! Remember, this is a subscription pledge, so you will be charged around the first of every month. I am a full time artist working a low hourly wage, and every dollar I make on Patreon helps keep DOTU alive and running. Most urgent is the upcoming 1K goal for a brand new website!



Website design and contents copyright 2010-2017 Shobana "Bob" Appavu. Do not use without permission.